Invisalign® Clear Aligners
Invisalign clear custom aligners are just right for Surrey teens and adults who need their teeth straightened, but don't want to deal with the hassle and obvious appearance of traditional braces.
---
What is Invisalign?
Invisalign is a series of clear, custom aligners that straighten your teeth just like braces do, but have the benefit of being practically invisible when worn. This makes Invisalign aligners an excellent, low-profile alternative to standard braces.
Dr. Rosenczweig at Guildford Dental is an experienced Invisalign provider. She can help you determine whether this innovative teeth straightening option could be right for you.
We're a Straight Smile Centres Member Practice 
Guildford Dental is a Straight Smile Centres Member Practice, which means you can count on our general dentists to help you achieve the straight, even smile you've been dreaming of with clear custom aligners from Invisalign.
We'll guide you each step of the way along the path to your beautiful new smile.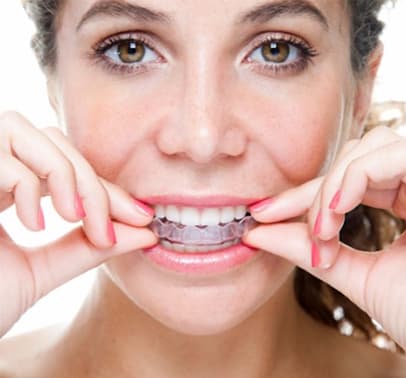 What are the advantages to Invisalign?
The advantages of Invisalign vs braces are two-fold. First, they are nearly invisible, giving your orthodontic treatment a more low-profile look. And secondly, they are removable, meaning you and eat, brush and floss with ease.
---
Nothing to hold you back!
Because there are no metal wires and brackets, Invisalign braces are comfortable to wear. And because the aligners are removable, eating, brushing and flossing are no problem.
You can still enjoy your favorite foods and smile without holding back. With Invisalign, there's nothing to hide!
---
How does Invisalign work?
During your first consultation at our Surrey Straight Smile Centre, Dr. Rosenczweig will help you decide if Invisalign is right for you. If you are a good candidate for Invisalign, we will develop a detailed treatment plan just for you, as well as an Invisalign cost estimate.
Dr. Rosenczweig will take impressions and photographs of your teeth and send these, along with the treatment plan, to Align Technologies headquarters, where her instructions will be transformed using 3D computer technology into a series of precisely customized aligners.
During treatment, you'll wear each set of aligners for about two weeks. they will move your teeth in gradually, in small increments, until the final result is achieved: straight teeth!
Most patients don't have to visit the dentist any more often than they would with braces, and the treatment duration is about the same.
---
Invisalign has been proven effective in both clinical research and in dental practices nationwide. So whether your teeth are crowded, too far apart, or have shifted since wearing braces, you'll have a new reason to smile!
Want more information about Invisalign? Get in touch!